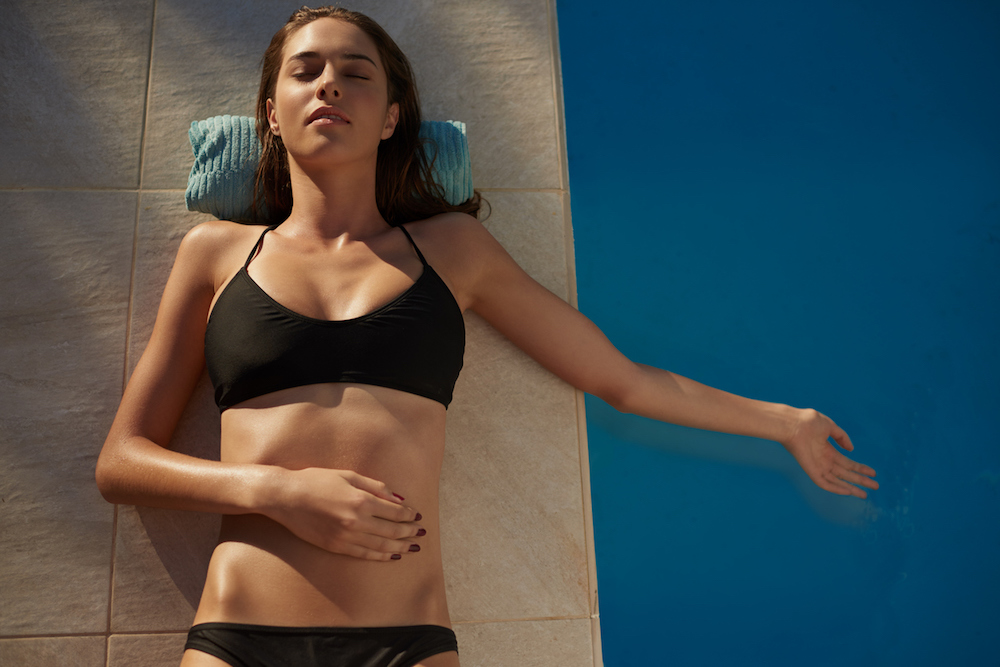 One question we often get asked at The Skin Project is what sort of tanning is okay.
And our answer is always the same: Fake it or forget it!
Any exposure to the sun is causing long-term damage to your skin and contributing to the ageing process.
Tanning speeds up signs of aging  on your skin and can lead to premature wrinkles, age spots, and other unwanted signs of aging.
At our anti-ageing clinic we find that clients who enjoyed tanning now suffer from
broken capillaries
rosacea
moles and freckles
blotchy skin
uneven skin tone with rough texture
fine lines and wrinkles
loss of volume in their skin
When we enjoy time in the sun, the harmful UV rays break down the collagen and elastin in our skin, creating fine lines, wrinkles and sagging skin. This means the more we enjoy being outdoors, the more we are likely to premature ageing.
Protect yourself
For those of us that enjoy an outdoors lifestyle it is not all bad.
At Sydney Cosmetic Clinic ae always recommend to clients that they protect their skin, their face, and body, from the sun, to help reduce the signs of ageing.
Even being outside for as little as 15 minutes can cause permanent sun damage, and speed up the premature aging on your skin. Which means that excessive sun exposure will cause great damage to your skin.
Next time you head outdoors, protect your skin in these simple ways:
Choose a sunscreen offering broad spectrum protection, like Radiance Skin Serums offers a Day Cream SPF 30 and Moisturiser. This anti-ageing cream offers a broad-spectrum physical sunscreen to protect against the damaging effects of both UVA and UVB rays and is suitable for all skin types, and can be worn under makeup.
Put on some protective clothing to cover up. A long-sleeve top and pants is best
Wear a wide brimmed hat and some sunglasses to protect the delicate skin around your eyes
Stay in shaded areas, especially between 10am and 2pm when the sun is at its strongest.
By taking these small steps you can minimise sun damage to your skin.
Fake it
If you choose to sunbath, think about the harming you are doing to your skin. You are allowing your body to soak in UV rays from the sun. UV rays prompt the body to form free radicals within the skin. Free radicals damage elastin fibres in the skin, and contribute to wrinkling and skin cancer.
People with fair skin have less protection against UV-induced skin changes and tend to develop more wrinkles than people with dark skin.
If you are set on achieving a tan, get a fake one, just not from a solarium or tanning bed.
Solariums are not a safe way to tan, and are known not just to  cause premature ageing of the skin and wrinkles, but because they release concentrated harmful amounts of artificial UV light, they are also prone to cause cancer.
Suffering from sun damage including sun spots because you spent too long in the sun?
Talk to the experienced skin care professionals at The Skin Project about how to treat sun damaged skin and solutions for hyperpigmentation. We can assess your skin and discuss cosmetic solutions to smooth and lighten your skin. Using the latest laser techniques we can remove hyperpigmentation from your skin and create and even skin tone.
Read more about the skin care solutions available for sun damage skin you at The Skin Project.