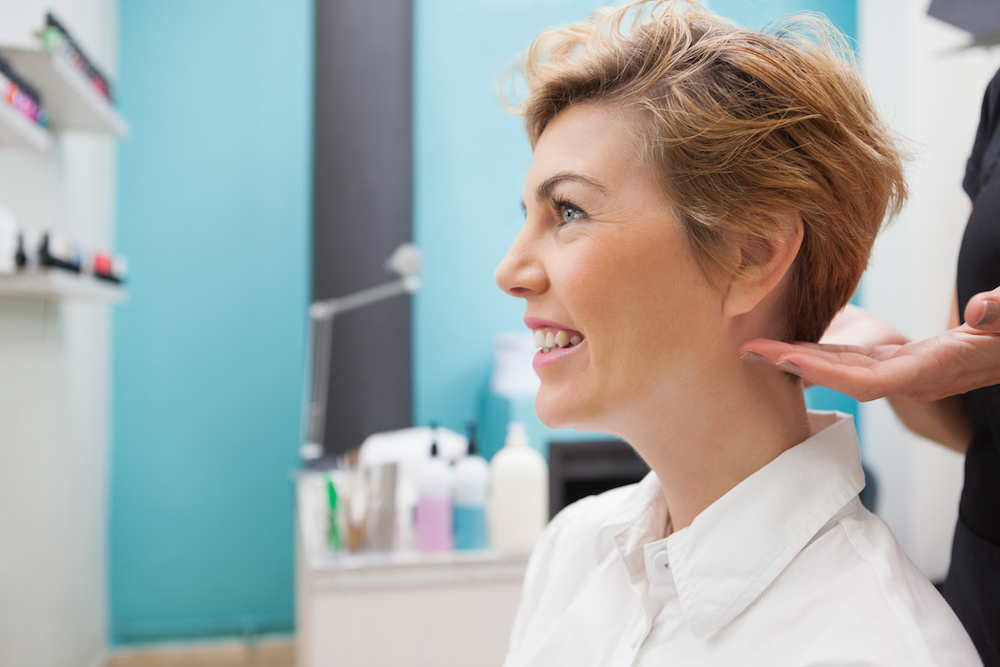 It is the haircut that everyone is talking about. And not for any good reason.
Why Katy Perry cut off her hair.
Why?!
Well let's break it down for you.
First off, Katy was on the Ellen DeGeneres Show claiming that her cut was an act of beauty necessity – that her lengthy, often multi-colour locks had suffered the trauma of years of colouring and were starting to fall out. Her plan to restore health to her hair was to go minimalist.
The only problem with that story: She didn't go minimalist on the colour! Katy opted for a short, blunt pixie cut in a vibrant platinum blonde.
Her so edgier new cropped look continued to be the talk of tinseltown. Katy admitted in an emotional interview with The Therapist on Viceland that her decision was also about connecting with her true self, Katheryn Hudson. (Those in the know will whisper in your ear that Kathryn Hudson is Katy's real name.)
Watch Katy's teary interview here:
So the real story comes out!
And Katy's pixie cut really has divided Hollywood and beyond.
We think of it as the cautionary tale. We love Katy Perry, and think she is beautiful. However her haircut is the ultra short pixie, choppy cut that never should have been.
You see, as this pic from her Instagram feed shows, the problem with her ultra-short or blunt pixie hairstyle shows off her face, jaw and neck. There is literally nowhere for Katy to hide. And for a woman like Katy, with her longer jaw/chin area, the pixie cut creates a masculine appearance, and ages her too.

Although she artfully applies makeup, her lack of strong cheekbones, her square jaw and stronger features do little to help her pull of this super short hairstyle. For all the haters, take a moment to compare Katy to how Audrey Hepburn looked – soft, feminine and timeless. Katy, sadly not so much. However Katy is saved by her plumped up perfectly lined and coloured lips, and her smooth and even toned decolletage.
Worse yet, this pixie haircut emphasises those under eye bags and crows feet gorgeous Katy has been collecting from working far too hard.
All in all, while the shade of blonde suits Katy's lovely pale complexion, the jury is out on the pixie cut – coincidentally created by the same stylist used by Miley Cyrus to chop off her hair and create a longer blonde pixie cut.
A recent example of how to go ultra short? Think of Kirsten Stewart. Earlier this year when she unveiled her new look – her basically shaven head – the movie star was praised for her bold platinum look. Her highest cheekbones are accentuated by her haircut, and greyish green eyes are more piercing. And just like Katy, Kirsten's smooth, glowing complexion is highlighted by her new ultra-light hair colour.
Could you pull of Katy Perry's Haircut?
Pixie haircuts are all about balance. Don't let your pixie cut age you by making sure you consider your face shape and best features. Get your pixie haircut to emphasise your femininity and help keep you looking younger. Don't neglect to highlight your perfectly plumped pout and full cheekbones, plus ensure your haircut considers the length between your ear and chin. The longer that space, the less likely a super cropped haircut will suit you.
And of course, before you get your pixie cut make sure you have nice plumped lips, and lovely smooth skin to show off! Talk our cosmetic doctors for expert advice about how you can have your skin looking it's youthful best.