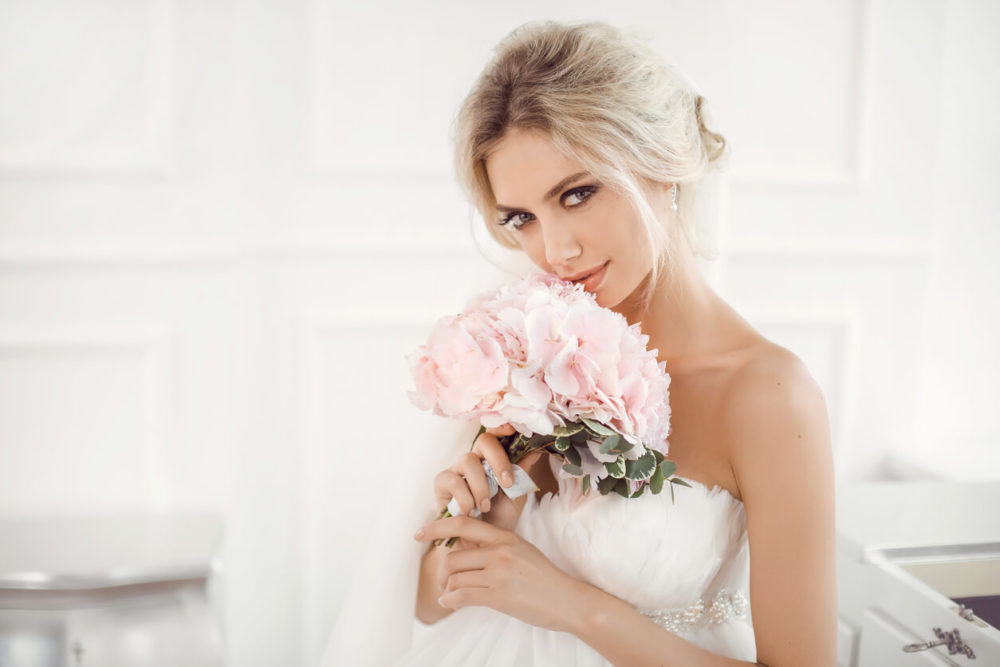 Congratulations!
Now you just need to get ready to walk down the aisle. Wedding prep means making a truckload of decisions, but don't leave your skincare till the last minute!
If you want to look more glamorous than Kim and Kayne but totally laid-back cool in a Kate Moss kind of way, we have the pre-wedding cosmetic beauty strategy for you.
Follow these skin wedding prep tips and our non-surgical cosmetic clinic will ensure you look blissfully stress-free and champagne happy.
So brides, bridesmaids, mother of the Bride, or friend looking to show the world, yes, I'm gorgeous! And let's get your best face wedding ready!
Tip 1: Start Early
Create vibrant skin that glows as you walk down the aisle.
Especially if you are prone to the odd pimple or have some facial scarring you would like to remove, a series of cosmetic laser treatments can help to create smoother, brighter skin tone, while chemical peels are a wonderful way to exfoliate away dead skin cells and unclog pores.
A series of skin-perfecting treatments will ensure your skin is balanced and without a shiny face in those all-important photos.
Tip 2: Hands Are Important
With that new sparklier you will be showing off your hands to all in sight. Don't neglect them.
We offer non-surgical cosmetic treatments to rejuvenate your hand's skin texture.
A chemical peel can buff away tired skin cells and refresh dry hands. This cosmetic therapy can also reduce the appearance of fine lines and wrinkles.
For those wanting to get rid of sun spots and pigmentation, laser treatment for the hands
Finally, dermal fillers can be used to add volume to hands that appear bony.
Tip 3: Goodbye Wrinkles
The first thing people see when you smile? Those crows' feet and fine lines forming around your eyes.
Sorry, someone had to tell you.
With one simple non-surgical treatment you can remove all those pesky fine lines and wrinkles that are only exaggerated by makeup.
Targeted anti-wrinkle injections can ensure that these facial wrinkles are smoothed and softened, especially those fine lines and wrinkles around the eyes, including frown lines between the eyebrows, crow's feet and eye wrinkles, lines under the eyes, expression lines on the forehead
These are also suitable cosmetic treatments for fine lines around the mouth and lip lines, plus neck wrinkles and fine lines on the throat.
Results will last about three to four months, and there is the potential for bruising in the first 36 hours, so this cosmetic treatment is best not performed the week of the wedding.
Tip 4: Forget The Sweat
According to psychiatrists, getting married is one of life's most stressful events – read most sweaty occasions. If you are a heavy sweater, own it. Don't let excessive sweaty in your armpits ruin your dress or your day.
We can simply and easily control the problem of chronic or uncontrollable underarm sweating (also called hyperhidrosis) using
Sweat-free injections are quick and safe and are relatively pain-free. They work by temporarily blocking the chemical signals from the nerves that stimulate our sweat glands. Once the chemical signal is stopped, the sweat glands do not activate which prevents excessive sweating.
Results are noticeable within 2 – 7 days, and for at least 8 months to a year.
Tip 5: Don't Leave Those Lips Too Late
Kissable lips are a must for any bride. A gorgeous smile is a must-have accessory for any wedding day!
At The Skin Project, we use only the best quality injectable dermal fillers to plump up client's lips.
The long-lasting effect of dermal fillers is renowned for creating beautiful, fuller lips that flatter the face.
Our experienced cosmetic doctor will ensure that your lip fillers complement your face, either by injecting dermal fillers in the lip border to give more definition or by creating the plumped lip effect by injecting lip fillers inside the lip area.
Remember, while lip enhancement may take effect immediately, with the potential for bruising and swelling in the first 36 hours, it is smart to get your lip plumping cosmetic treatment at least a week before your big day.
And follow our experienced cosmetic doctor's advice to reduce the potential for side effects.
Contact The Skin Project today to book your professional skin analysis and consultation.